New Patients at Gray Family Chiropractic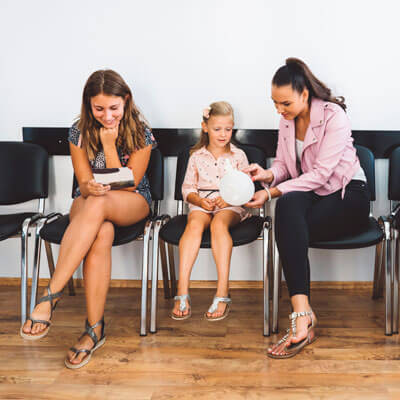 Welcome to Gray Family Chiropractic, where our promise to you is that your health, comfort, and satisfaction are our primary concern.
We look forward to welcoming you to our office and helping you reach and exceed your goals.
If you have any questions, we would love the opportunity to answer them. Call our North Raleigh chiropractic office today!
Upon entering our office you will feel removed from the hustle and bustle. We are situated in a cul-de-sac and our office is warm and inviting. We provide our office forms online, or we will be happy to fax or email them to you. After the paperwork, we will show you a short 7-minute video about chiropractic to familiarize you with what to expect.
Consultation
Promptly following the video, you are taken back to an examination room for a personal consultation with the doctor to discuss your health concerns. Your doctor will gather information about your medical history to ascertain the depth of your complaint. Certain information in your health history provides important clues that will allow us to properly diagnose your problem. This is essential for preparing a unique course of treatment for you.
Examination
After obtaining your history, a physical examination will be performed utilizing orthopedic and neurological tests to determine your health status. You will be asked to do a series of simple and easy activities or exercises. These exercises provide information about your motor skills, balance, and gait. They help determine your range of motion, muscle tone and strength. Any abnormalities provide us clues about the integrity of your nervous system.
Next, Dr. Gray will perform a chiropractic spinal examination designed to detect for any vertebral subluxations, or spinal misalignments which produce nerve interference and disrupt health. Your doctor will palpate with her hands to feel the alignment of your spine moving it in different motions.
Depending on your condition, a series of spinal X-rays may follow. The chiropractic examination will reveal whether or not you are a candidate for care. If you are, we will provide you with your first adjustment. If not, an appropriate referral is made if your condition is not of a chiropractic nature.
Report of Findings Visit
On your second visit, the doctor will review your X-rays and determine a treatment plan individually designed for you based on your level of subluxation and severity.
You will receive an adjustment and the whole process will take about 30 minutes. You can choose to schedule your future visits all at once or on a weekly basis.
Regular Visits
After the investment of time needed on the first and second visits, many patients become concerned that every visit will be of equal length.
A typical office visit requires just 15 minutes.
But don't think the brevity of a regular visit lessens its value! With the groundwork laid, we can quickly size up the condition of your spine and nervous system, adjust you and get you on your way. We encourage our patients to participate in all phases of their care.
Get Started Today
Our purpose is to empower our patients and families to aspire to new levels of optimum health. Obtaining optimum health through chiropractic care is a continuous process. Like a regular workout at the gym, each visit builds on the ones before. Miss a visit and you can lose the momentum necessary to make the needed changes.
We recognize your time is valuable. So we do everything possible to run on time and minimize the impact on your busy life.
CONTACT US »

New Patients at Gray Family Chiropractic | (919) 850-2440